As part of the research for his MA in Heritage Interpretation, Corvidae's director Richard Crowest examined effective ways to engage more than one of our five senses when interpreting objects, places and images.
The resulting dissertation combined an extensive review of literature on learning theory with original research conducted in some of Britain's leading museums and galleries. It also presents case studies of successful interpretation schemes that combine original objects with interactive, multisensory interpretation.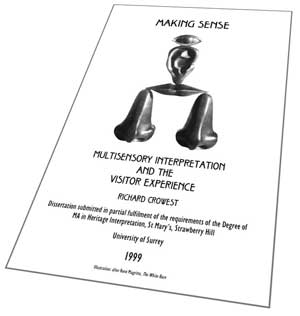 The dissertation is now available for free download. It requires version 4 or later of Adobe's reader software, which is also available free of charge.
Download Making Sense - Multisensory Interpretation and the Visitor Experience (PDF, 480kB).